Professional AV and IT solutions for education in schools, colleges, and universities
From classrooms to amphitheaters, align your av technology with the quality of the education you provide.
From a simple overhead projector to smart boards, classroom technologies have evolved a lot in recent years, increasing educational capabilities and helping teachers to better interact and engage with their students.
Simplifying learning technology adds tremendous value to student-teacher interactions. We think investing in advanced audio-visual tools for the classrom or distance-learning is an investment for the success of students.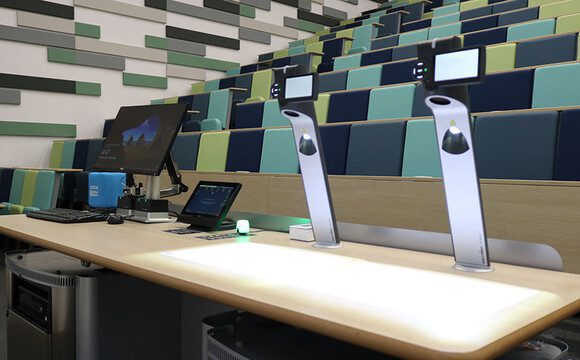 Primary and secondary schools
With our simply and effective AV solutions, teachers are able to reach students who might be visual or experiential learners along with traditional auditory learners.
It also gives teachers new and creative ways of teaching that will enhance the academic experience of children and teenagers, as well as increasing their class participation rate.
Active learning spaces foster collaboration, engagement and hands-on application creatively both individually and in a group. Students breakouts require BYOD connectivity both independently and as part of one ecosystem with ease of use.
Students will enjoy going to their classes and be eager to learn!
Universities and colleges
Huge and crowded lecture halls are often inherent in undergraduate students' experience. Learning in these large rooms can be challenging, especially when students find it difficult to hear and see what's happening in front of the class.
Our audio-visual solutions are designed to make classes more engaging for learners and more empowering for teachers. Multiple interactive displays and clear audio will help you retain your student's attention, facilitates communication and optimize the learning environment.
Universities also benefit from the integration of leading-edge technologies that integrate all types of mobile and personal devices because these are a strong factor in attracting students who, now more than ever, are looking for high-quality facilities. Effective sound reinforcement and distribution is also key for intelligibility.
How our professional av solutions help you
Clear reinforced sound and speech intelligibility
Elegant interoperable solutions
Flexible and interactive tools
Engaging atmosphere for huddles spaces, classrooms and lecture halls
Enables active learning and multi-use spaces
Facilitates communication and collaboration
Future-proof, reliable solutions with reduced maintenance cost and downtime
Robust and user-friendliness
Solutions for education AV applications, on-site and virtual (distance) learning
Video
Video projector screens
nteractive displays
cameras (usb, manual and intelligent instructor tracking)
Vizualizers and Presenter Solutions
Audio
Complete DSP solutions, speakers, and microphones (wired and wireless)
Assistive listening systems
Interpreter systems
Tour guide system
Signal distribution
Digital, HDBaseT transport, Dante Audio
omplete Networked A/V (AVoIP) systems
Control and automation
Enterprise level asset management.
Classroom and campus-wide automation
Digital signage
PoE and locally powered devices
On-site and Cloud managed
Connectivity
Structured cabling, interconnects, and accessories. Display mounting solutions
Architectural connectivity (table A/V inputs, power distribution, etc.)
Unified communications and collaboration (UC&C)
Wired and wireless presentation and collaboration systems
Lecture capture and recording
USB Capture
COMPLETE NVR (NETWORK VIDEO RECORDING) SOLUTIONS