Businesses and conference rooms
Professional AV and UC solutions for business and workplace applications
For more efficient meetings and increased productivity and a reinforced brand image, make your AV and UC infrastructure work for you.
You need technology to work for you without having to work on the technology.
We help you focus on running your business and operations, with customized, user-friendly and reliable professional AV and UC solutions.
Meeting Rooms
Engage with your employees, customers, suppliers, partners for compelling meetings, and focus on business while we support you with theof technology.
Multipurpose huddle spaces should bring your team together flexibly.
Remote workers, on-the-road staff and executives should be empowered to interact and collaborate dynamically by the right technology for their activity based meeting.
Board Rooms
Board rooms with a beautifully designed, fonctional and integrated AV system improve productivity and facilitate collaboration and the creative sharing of ideas.
In today's fast-paced business environment, you expect meetings to run smoothly and efficiently to save valuable time.
Whether you are looking for tools for secure video conferencing, networked AV, room control, intuitive user interfaces, or for wireless presentations and interactive displays, we have sophisticated easy-to-use solutions to match your business requirements and help you achieve your goals.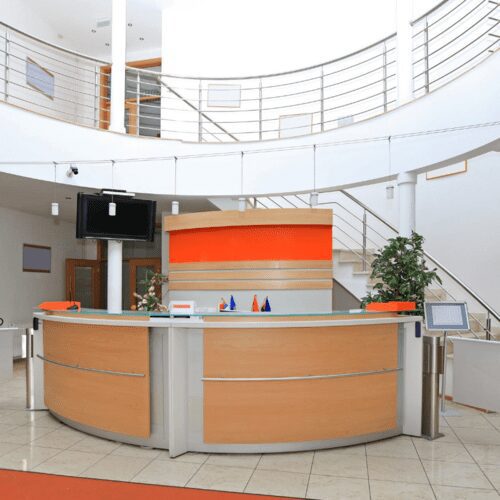 Reception Areas and Lounges
Finding the best AV equipment to help you create a pleasant atmosphere and a relaxing place for your guests. With entreprise wide AV distribution solutions, content can be shared with employees in virtually any common area to inform, engage or alert employees at a moment's notice.
Our digital signage solutions also allow you to create dynamic and elegant content to communicate key information vividly to your prospects, clients, employees, and partners in real time.
How our professional AV and UC solutions help you :
User-friendly devices and interfaces for easy control
Advanced technology for wireless presentations and videoconferencing
Sophisticated and interoperable solutions
Interactive tools for collaboration
Enhanced productivity, efficiency and creativity
Facilitates interactions and engagement with diverses stakeholders
Solutions for business, corporate and workplace AV applications
Video
Video projector screens, interactive displays, cameras (room and conferencing)
User interfaces
Audio
Complete DSP solutions, speakers, and wireless microphones systems
Audio conferencing systems
Assistive listening systems
Interpreter systems
Tour guide system
Signal distribution
Digital, HDBaseT transport, Dante Audio
Complete Networked A/V (AVoIP) systems
Control and automation
Enterprise level asset monitoring & management
Enterprise level asset reporting and recording
Room and system automation & control
Room scheduling solutions
Digital signage
PoE and locally powered devices
On-site and Cloud managed
Connectivity
Structured cabling, interconnects, and accessories
Display mounting solutions
Architectural connectivity (table A/V inputs, power distribution, etc.)
Complete huddle space solutions
Unified communications and collaboration (UC)
Wired and wireless presentation and collaboration systems